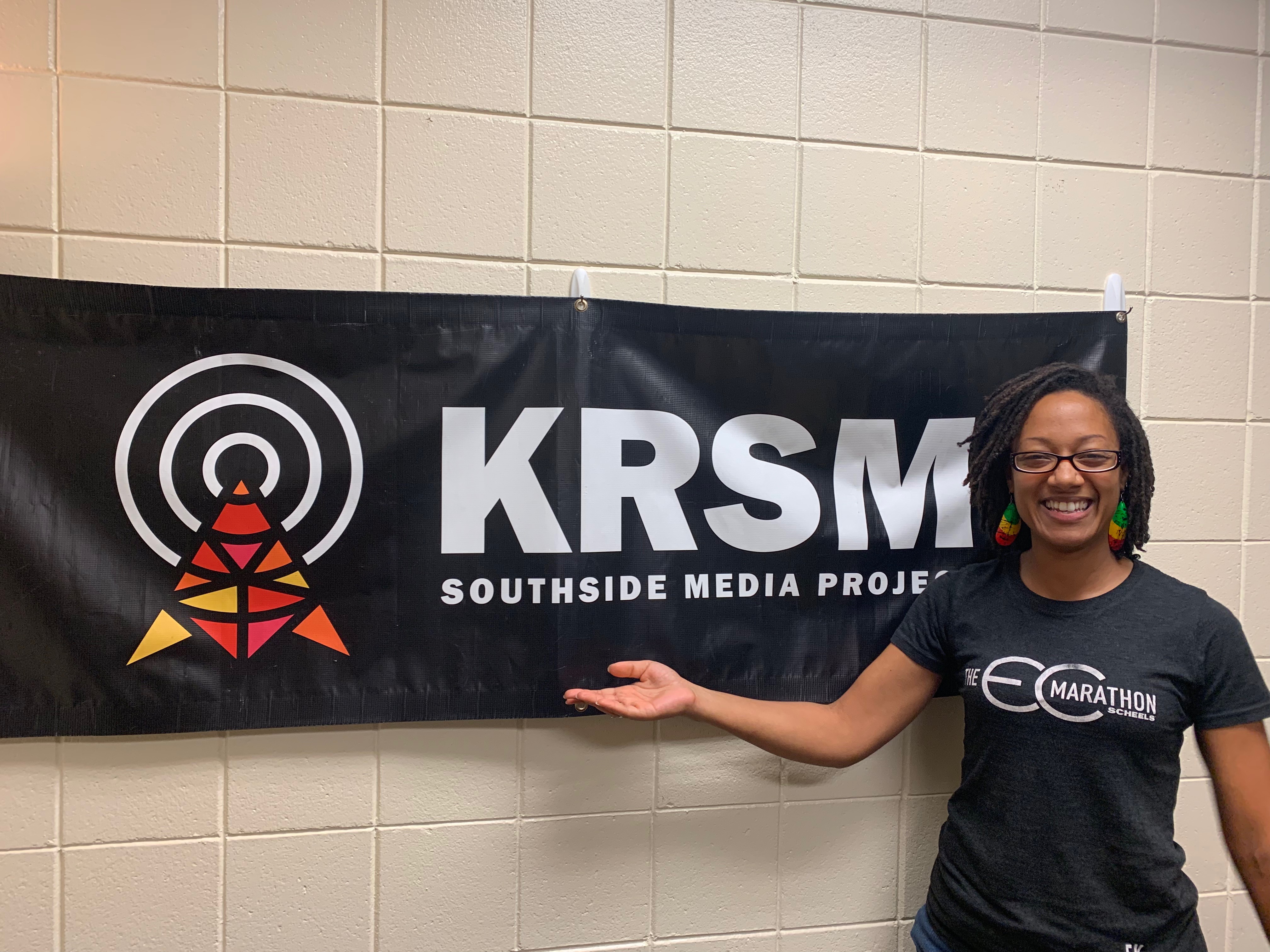 Just Write Now
Wednesdays at 9 pm
Hosted by Queen Frye
Peace! My Name is Queen, I am originally from Boston, MA. I moved here right before the Snow Storm in '89. My first memory of Minnesota was the ride on the Greyhound Bus to get here. I remember being able to make comparisons between my Home and Minneapolis at the age of 5. The first thing I noticed was how different the food was. I was not used to burgers and fries. I had already spent my entire life eating seafood, fish, fruits and vegetables and until this day I look at the burger like….Really, Why? We stayed past the snow storm and eventually I grew up here. I attend school from Kindergarten all the up to completing high school in the Minneapolis Public School District. I am proud to be a Henry Alumni, some really great things happened during those four years…Ask me about it!
Now you may want to know what I have been working on that would lead me to KSRM. Being a radio DJ was not apart of my said plans but I think subconsciously those plans were manifesting themselves. I went to school to be an Accountant, LOVED IT! and I have been in the accounting field since 2006. Accounting has opened up so many doors and conversations for me. I love how accounting and economics intersects with my other passions like theology, running, writing and incarceration and I guess I can now add history. If you cannot see the resemblance then let's have coffee sometime…let's have coffee anyway! My initial goal was to work as a bean counter until retirement but the longer I spent in the office looking out at the world from my window. I grew curious about what was going on at the street level and what do I care about in this world and eventually, like 2016, I decided to walk that journey. I took my spoken word publicly to the mic. That lead me to many opportunities to discern my purpose and to find my voice. I've partnered with churches, coalitions, organizations, corporations, friends and family on many different social justice topics, but none has touch my core more than the history of incarceration in America. The depths of its history spawning off of racism has it's roots in every institution and system in America. and like a 2nd grader from out 1st annual Black August Youth Camp expressed, "Racism has gone too far!" I agree with him 100%. The opportunities I've experienced since 2016 has lead me to focus on humanizing the image of the People of Color through the study, sharing of the knowledge and participating in dialogue that can capture the voices of those impacted by incarceration. Which essentially is all of us.
KRSM is not my first community radio network. You may also know me from Frogtown's WFNU, TunedIn Radio. Just Write Now ReEntry has been on air since February 2018. In which we circulate conscious music, storytelling and poetry from those have experienced incarceration. My experience so far has been the best creative experience of my life. I love talking to people and I love to learn new things. Radio helps me to experience both at the same time. Just Write Now ReEntry on KRSM is a non-fiction talk show exposing all pipelines that lead to prison. Consisting of weekly holistic conversation involving all those impacted by the history of incarceration in America. So tune-in each week and enjoy the conversation! One thing I am looking forward to my near future with KRSM is learning the community it resides in, so I will see you soon!
Listen to our previous shows: