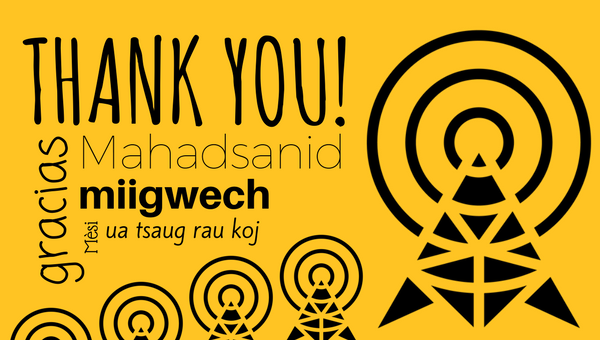 A message from Station Manager Brendan Kelly following the June fundraising campaign:
At the beginning of this month, we turned to our community for help. We asked you to give what you could to help us realize a dream 5 years in the making—launching a brand new community radio station for South Minneapolis.
Today, I'm happy to announce that you rose to that challenge and helped us exceed our goal. In one month's time, you collectively donated over $40,000! I'm overwhelmed by all the support we have received from our community. Local businesses like Glam Doll Donuts, Fifth Element, Rose Presents, Sophisticated Dip, Soundset Festival, B Resale, and Rhymesayers Entertainment were exceedingly generous. Many local artists and musicians pitched in money, talent, and publicity for our cause (special shout-out to Atmosphere). And without the dynamic team at Waite House and Pillsbury United Communities, we wouldn't have had the capacity to run a campaign nearly this well.
But in the end, what really got us across the finish line were the community members and households who helped in whatever capacity they could. Several people told us they couldn't afford to donate, but had skills and resources to offer. More than a few families told us early on in the month that they couldn't give now but promised to do what they could once their next paycheck came in. Sure enough, weeks later those same names popped up on our donor lists. In the last days of the drive, one supporter felt compelled to make sure we were successful but didn't want to just write a check. Instead, she incentivized the community to see this through together by offering to double all donations, no matter how large! Her instincts proved correct, as nearly one hundred individual donors showed up to deliver the amount needed for our new antenna.
I'm proud to say that KRSM will launch later this year as 98.9 FM. In the meantime, I hope you'll continue listening to the quality programming our hosts are putting together at KRSMradio.org and think about ways that you might like to get involved with what we're doing. Send me a note anytime, I'm always happy to talk.
Thank you so much for your support,
-Brendan Kelly, KRSM Radio Manager