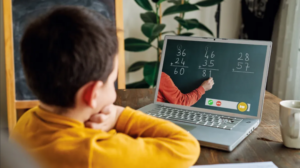 Written by Emmett B
*This article was written on July 31, 2020 and is reflective of the information available at that time
Earlier this year, Students all over the world switched to online learning because of the Covid-19 Pandemic. Recently, MPS decided to go with distant learning again for the 2020-2021 school year, at least until Covid-19 cases drop or a vaccine is created. I surveyed 8 students before this decision was made to see what they thought was the best idea and what they wanted to do. I also asked some questions about logistics and resources. This is what I found:
What is the safest idea for schools? 
5 out of 8 students felt that the safest idea would be staying online. While the other 3 said a hybrid class setup.
What option do you prefer? 
6 out of 8 students expressed wanting a hybrid school setting this year as opposed to online or in person. Only one person felt school should be in person with masks.
Do you think your school would be competent enough to keep you safe?
4 out of 8 students answered no on this question. While two people felt that "Not everyone" or "they would try but have a hard time".
2 out of 8 students felt that their school would keep them safe.
What about resources? Do students have enough resources to keep themselves safe?
2 out of 8 students surveyed felt that they do not have all the resources they need.
I also decided to ask for the students' full opinion on going back to school. The general consensus was that online is the safest option. Here are some examples of things students said:
"It's really unsafe to do in person school but online school sucks because resources like direct help aren't as easily available."
"I think some kids need to socialize with others. But I also think that going back to school at all would have to be thought about very carefully. My school is pretty small so I think it would be easier to create a hybrid situation. I think it should be up to students to decide if they feel comfortable going back though. If there are students who aren't working well with online learning, they may need face to face interaction with a teacher with masks/social distance. I don't know though."
"I think that we should be online until there is a vaccine or cases are going down instead of up. I don't think it's a good idea to do any kind of in person instruction while cases are spiking…"
I also asked for students' experiences with online learning. A lot of people mentioned struggling with it, a lot of students didn't feel supported by teachers or that were learning anything. Here's some feedback from some of the students:
" Good for safety in the pandemic but as a student it makes it easy to procrastinate and get off track or cheat and not learn anything."
" It's not as effective as in-person instruction, but it's probably necessary for safety. I think the biggest drawbacks are the social and mental side effects, especially for students who are already struggling."
" I didn't really feel supported. I wish we had done more google meetings as a class."
" I was struggling and going through a lot at the time, so I almost failed everything"
MPS has proposed a much improved online learning method. With more support for students and more engaging curriculum. They didn't have a lot of time to plan last year, so hopefully they were able to figure something out for this year. Be sure to check in with your kids a lot this year. Make sure they feel supported during this crazy time. Motivation can be a hard thing to get right now, so try not to force it on them. Just try to help them out when they are struggling.