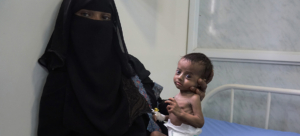 Written by Aliya B
*This article was written on July 31, 2020 and is reflective of the information available at that time
Right now Yemen is in a civil war that started in 2015. The civil war started when an armed group called the Houthis moved into the capital city, Sana'a, and took over government institutions. President Hadi fled Yemen shortly after the takeover of Suna'a.

Shortly after a coalition of states led by Saudi Arabia worked to take back Houthi-held areas and restore power to Hadi's government.

The conflict has only gotten worse, leaving Yemen the poorest country in the Arabian peninsula. Yemen has been vulnerable for years. Even before the current conflict, around half of the population lived in poverty. The country has also been facing weak governance, underdevelopment, unemployment, and hunger.

Outbreaks of COVID-19 and cholera are ongoing due to more than 50 half of the country's health faculties being destroyed or damaged. Almost 100 civilians were killed or injured every week in 2018. Approximately 17 million people are in desperate need of food, causing Yemen to be on the brink of the worst famine in 100 years.

Yemen imports 90 percent of its food supply. Because of the conflict, many seaports have been closed and goods can't get in easily. The food that is available is too expensive for families to afford. Most goods have soared in price, for example, a bag of wheat flour is 120 percent more expensive than it was in 2015.

Yemen is currently facing the worst humanitarian crisis on earth. Some ways you can help is by donating. The United Nations High Commissioner for Refugees (UNHCR) are in Yemen providing humanitarian relief and protection for thousands of displaced people. About 3.6 million people have been displaced.

Here are some other charities working in the regions highlighted by the UN:
The Red Cross
Save the Children
Unicef
Oxfam
If you can't donate to charity, encourage your friends and family to. This has been going on for way too long, if we work together we could hopefully help those in Yemen.