Afternoon Chasedown
Max and Sanyii discuss various basketball topics, news, and debates. They both bring their own individual perspectives and original opinions with every take they give on the show, trying to make it as authentic as possible. If you want to hear the perspective of two high schoolers and NBA fans on some of the most interesting discussions surrounding the basketball community, definitely give the show a listen!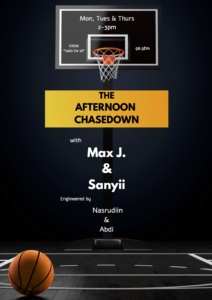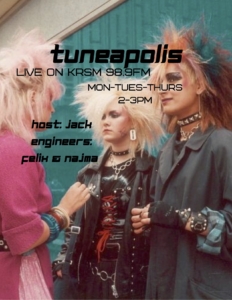 Tuneapolis
On Tuneapolis you will often find our host Jack playing rock music, talking about the history of the songs they chose, and introducing listeners to songs they may not have heard before.
Hot Talks
Hosted by Billan, Libin, Amira, and Aisha Hot Talks is a place for these 4 to come together and talk about what they find interesting. Whether that be True Crime, Internet stories, or whatever else is on their mind, Hot Talks is the show to listen to!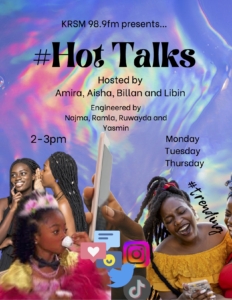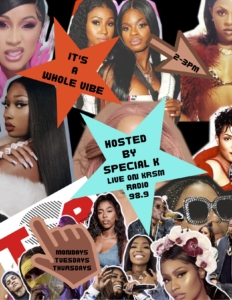 It's a Whole Vibe
A variety show hosted by Special K and Joseph. In this show, the two hosts explore a variety of topics while also jamming out to some good music. The name isn't a lie, it really is a whole vibe.
F.E.L.I.X.
A music show hosted by Felix where he shares songs and records that he enjoys. He mainly shares older music and a lot of Minneapolis centric music including The Replacements and Prince. If you're looking for a throwback to the past in Minneapolis, F.e.i.l.x is the right show for you.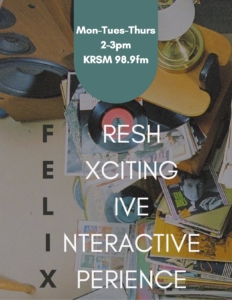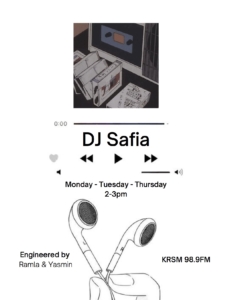 DJ Safia
Hosted by Safia and co-host Rahmla. These two like to play some fun music while also sharing stories they find online and sharing their opinions on them! It's a good time to hang out, listen to some music, and explore the wild world of the internet.
Max J.
Max J is a high school student in the Twin Cities and has been an On-Air Host at KRSM for 2 years. He also has a YouTube channel and Tik Tok so check him out @maxjyoutube on Tik tok and Max J Basketball on YouTube.
Hello! My name is Najma H. My pronouns are she/her. Some of my favorite hobbies are reading, baking, drawing and many more. I have 7 siblings and I enjoy hanging out with my friends/family. I love watching movies, shows, and I'm into watching kdramas. I love volunteering and helping out my community. My favorite animals are cats, bunnies, turtles and baby pandas.
Jack
Jack is a teenager from Minneapolis who's passionate about music, politics, and philosophy. They currently live on the north side after moving from Madison, WI. In their free time, when they're not planning their next radio show, Jack likes watching video essays, talking to friends, learning about fashion, doing makeup, and debating ideology.
Ivan B
I live in South Minneapolis and I am a sophomore at Washburn High School. Things I like to do include going to community events/youth activities, reading, and going to art museums. My favorite art museums to go to are The Walker Arts Center and the MIA.
Aisha M
Aisha M. is attending St Louis Park High School as a Junior. After high school, she intends to go to college and follow her goal of being a pharmacist. Aisha spends her free time reading, swimming, or watching movies. She also spends a lot of time with her family and values building connections with others. Aisha was eager to return to KRSM this year. Last year she worked as a content creator, and this year she works as a host on the radio. Her program is called Hot Talks, where she chats about anything that she and her friends find engaging.
Ruwayda A
Hi my name is Ruwayda A. I am 15 years and I'm going into 10th grade this year. My favorite things to do are being outside and going on walks. My favorite color is purple and I enjoy coloring or painting, they are very fun to do and calming.