Support authentic voices and stories from our community
Our fall fundraiser is now underway, featuring the launch of 
Radio for All – Volume One
. Our very first KRSM album includes 12 tracks from some of the best local artists and performers including Greg Grease and Mmyykk (AstralBlak / ZuluZuluu), The Lioness, Aby Wolf, Ricardo Levins Morales, I Self Devine, Big Quarters, Junauda Petrus, Lazerbeak (Doomtree), B Dot Croc, Bones & Beeker, deM atlaS, and Sarah White!
The only way to get all this great music is by donating to KRSM now. You'll be able to choose from mp3s, 180-gram vinyl records, and high-quality screen-printed posters of the cover art.
Your gift supports all of KRSM Radio's work throughout South Minneapolis. KRSM is a vital resource for communities who are so often misrepresented, underrepresented, and erased by traditional media.
84 percent of our hosts identify as Black, Indigenous, or POC.
We regularly broadcast in 6 different languages.
We feature 12 hours each week of programming by Native American hosts.
We have multiple shows by hosts who are transgender, youth of color, incarcerated or recently-incarcerated, immigrants or refugees… and who all have something important to say.
We broadcast live mixes from some of the best DJ's in the cities.
We have a music library featuring over 1,000 songs by local artists, while exposing listeners to amazing music from all over the world.
We record and share powerful words of wisdom from our community's artists, elders, storytellers, entrepreneurs, and activists.
For all these reasons and more, support KRSM now with a donation and pick up your copy of Radio For All – Volume One.
MP3 album
320 kbps tracks mixed and mastered by Medium Zach at Woodgrain
Vinyl record
180-gram vinyl with beautiful artwork by Andres Guzman and layout by Kai Benson
only 200 copies
hand-numbered
Posters
album artwork by Andres Guzman printed by Burlesque Design, a Minneapolis-based creative studio
4-color screen-prints on 100% acid-free, archival paper
only 100 copies printed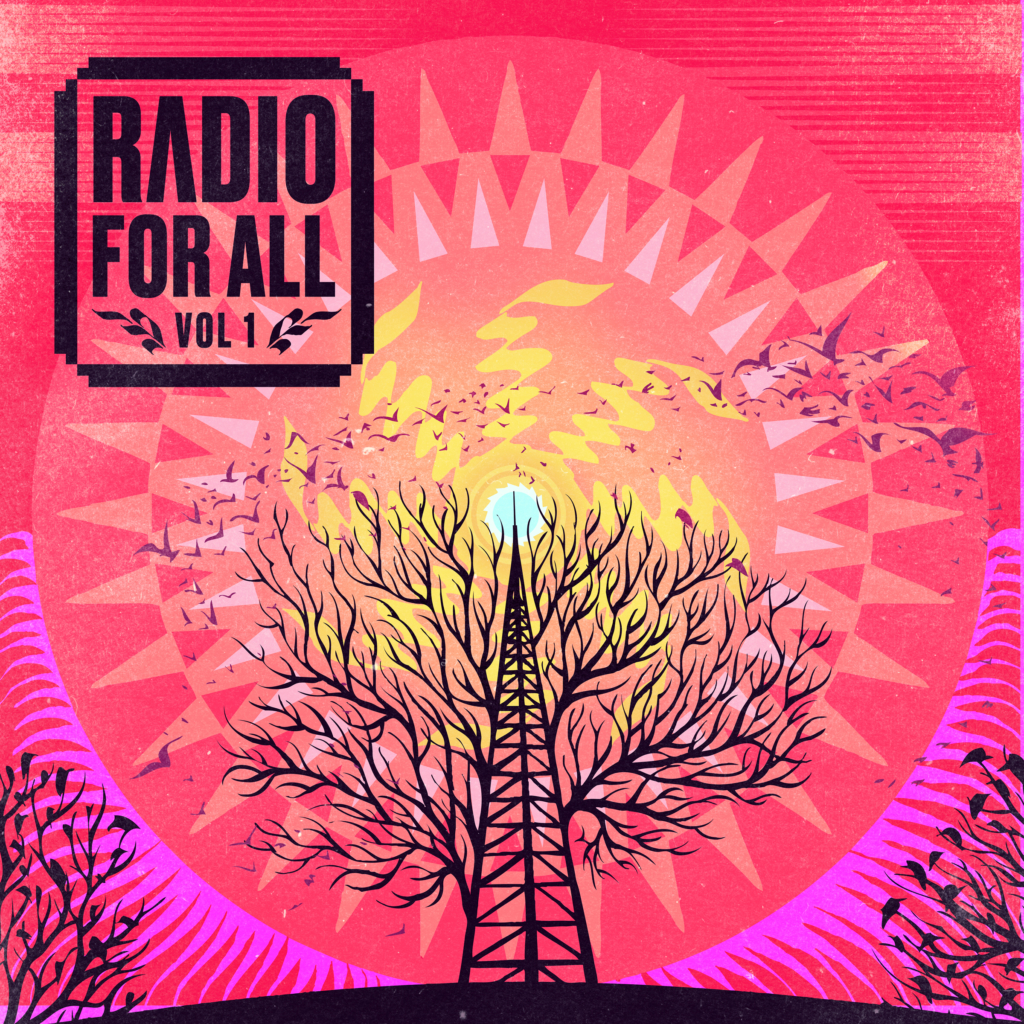 Donate today
Minimum donation amounts listed with each premium. If you would like to make a larger contribution than the amount listed, use the "other" field and enter your own price. Don't forget to fill out the "Additional Information" box to let us know what premium(s) you'd like to receive.
Track Listing
The Lioness – Mind Over Matter
(prod. by Greg Grease and Mmyykk)
I Self Divine with Bones & Beeker – Frozen
(prod. by BK-One and Benzilla)
Ricardo Levis Morales – Southside 60
Big Quarters – Nothing in a Mask
(prod. by Big Quarters)
Aby Wolf – Berry Quote (A 32nd Note)
(prod. by Lazerbeak)
Marcie Rendon – Southside 60
deM atlaS – Ain't Dyin' Today
(prod. by BK-One and Benzilla)
Lady Xøk – Kayukami
(prod. By Lady Xøk)
Veronica Mendez-Moore – Southside 60
EHN JEY – 42nd and 35th
(prod. By J.Hard)
BdotCroc and Sarah White – Pray For Me
(prod. by BK-One and Benzilla)
Junauda Petrus-Nasah – Could We Please Give The Police Departments To The Grandmothers?