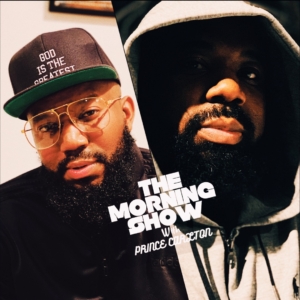 The Morning Show – Let's Argue w/ Prince Carlton

Mondays at 6 am
Hosted by Prince Carlton & Cedric Dildy 
Let's Argue brings polarizing social topics to the forefront of black culture for debate.
The Let's Argue cast consist of three host. Prince Carlton is the main host, while Cedric "Ced Linus" Dildy and Stanley "Sti-Lo Reel" Scott serve as co host. All three are the core of Pledge Empire Records, who for the past ten years toured locally, nationally and internationally.
In the past we have covered topics such as MJ vs LeBron, Toxic Masculinity, Drake vs Pusha T rap battle. We use Facebook live to get real time input on our segments. In the future Let's Argue would like to dive deeper into political discussions as well music and sports top ten list.
Facebook: https://www.facebook.com/themorningshowletsargue
Twitter: @letsargueshow @cedlinus @_princecarlton_
Podcast: https://itunes.apple.com/us/podcast/lets-argue-w-prince-carlton/id1376058503?mt=2
Prince Carlton Instagram: https://instagram.com/_princecarlton_
Ced Linus Instagram: https://www.instagram.com/cedlinus/
Sti Lo Reel Instagram: https://instagram.com/sti_loreel/