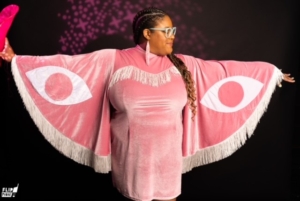 Let's Have a Kiki with OMGIGI
Thursdays at 3 pm
Hosted by Gigi
LET'S HAVE A KIKI WITH OMGIGI
THURSDAYS 3-5 on KRSM 98.9
🎵 It's a house party I'm hosting
Come and rock with the one that's chosen 🎵
Queen Latifah – Come Into My House
Tune into Let's Have A Kiki with OMGIGI for 2 hours of black queer femme excellence. As an Atlanta native Gigi grew up listening to everything from Dolly Parton to Outkast. Gigi brings her extensive pop culture knowledge and unique musical taste to share past, present, and the future of music.
🎵 WELCOME TO MY KINGDOM COME ONE, COME ALL ! 🎵
You can also expect giveaways for tickets to shows around the Twin Cities courtesy of First Avenue!
Follow OMGIGI at @kikiwithomgigi or @_omgigi_ on both Twitter and Instagram!
Let's Have A Kiki with Gigi is lovingly sponsored by The Future located at 2223 EAST 35th STREET 55407 thefuturempls.com for more info and Flip Phone Events hosts Drag brunches and other events every weekend goto flipphoneevents.com for more info.
Listen to our previous shows: