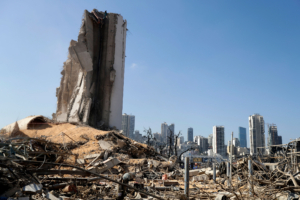 Written by Ris B.
*This article was written in the summer of 2020 and is reflective of the information available at that time
The people of Lebanon have gone through a tragic accident earlier this week with a blast that happened on August 4, 2020 which killed approx. 154 people and injured 5,000. The explosion smashed half of the city and sent shockwaves around the world. But the second blast blew out windows and doors all over town, and filled the streets with people in a daze. This has led to fears of shortages of food, grain and medicines.
Many people thought it was the U.S who did it. The U.S quickly came out with a statement saying "They did not send an attack on Lebanon."
Security forces fired teargas at a furious crowd in Beirut on Thursday night, as people were angry at the ruling elite. Many citizens of Lebanon are furious after their property got damaged in the explosion. Over 100 citizens are now homeless after the accident.
Protests also broke out around the Lebanese parliament building late Thursday, with demonstrators setting fires and jumping onto cars to throw stones. Lebanese paused from cleaning up the garbage off the streets and went to vent their fury with chanting and yelling "We want the fall of the regime". Police also fired tear gas at the protesters like we have seen many times before.
Authorities estimate the damage to be between $3-5 billion. Lebanon is a nation of more than 6 million people and imports almost all of its wheat from Ukraine, Russia and other European countries.
Beirut has had more than its share of trauma. The country is collapsing from compounded debt, budget, banking, currency and economic crisis. Lebanon is bankrupt. A third of Lebanese people are jobless and half live below the poverty line.The middle class is sinking into poverty and the poor are being pushed into destitution. Lebanon hosts around 1.5 million Syrian refugees.
President Donald Trump and his French partner Emmanuel Macron spoke over the phone Friday about working with other countries to send immediate aid to Lebanon. The two leaders "expressed their deep sadness over the loss of life and devastation in Beirut." France has already sent three planes filled with medical supplies and humanitarian teams.