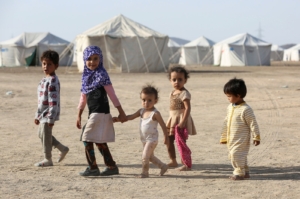 Written by Mi'kiyah
*This article was written in the summer of 2020 and is reflective of the information available at that time
COVID-19 is a family of viruses that causes illness and it can be deadly. ALJAZEERA reports that ever since the COVID-19 outbreak, there have been many deaths, and people have lost their jobs, homes and family members.
In Yemen, many children are starving. The United Nations International Children's Emergency Fund (UNICEF) reports that the number of starving children could reach 2.4 million in Yemen. That's a 20 percent increase since the outbreak of COVID-19.
The pandemic has really depleted the country's struggles."There are thousands of kids that were lost during the five years of war, now they deal with COVID-19 and they could lose a lot more" stated Sara Beysolow Nyanti. The UNICEF Yemen representative reports. "We cannot overstate the scale of this emergency as children, in what already the world's worst humanitarian crisis, battle for survival as COVID-19 takes hold." "If we do not receive urgent funding, children will be pushed to starvation and many will perish".
UNICEF reports almost 9.58 million children do not have adequate access to safe and pure water, sanitation or hygiene, which puts them at greater risks for infections. Also, 7.8 million children do not have access to education amid the school closure.
The Houthi movement (Ansar Allah) has been identified as an Islamic political and armed movement that emerged from Sa'dah in northern Yemen in the 1990's. Five years of war in Yemen involving the Houthi rebellion has caused more involvement. A Saudi-led intervention in Yemen was launched by Saudi Arabia in 2015. It is a leading coalition of nine countries from West Asia to North Africa.
The middle East's poorest nation has seen its economy destroyed as a result, leaving millions unemployed and 80% of the country in need of assistance. The coronavirus only made things worse. Yemen's internationally recognized government has declared more than 900 cases of COVID-19 and more than 250 deaths but the real number is assumed to be higher. At a closed UN security council meeting on Wednesday, UN humanitarian chief Mark Lowcock forewarned many more people will perish due to starvation, be overcome by COVID-19, die of cholera or watch their children perish because they have not been vaccinated for killer diseases.
At a donor conference in June, mainly Arab and Western countries promised $1.35 billion for aid operations in Yemen. This is less than $2.4 billion that was asked for out of the $3.6 billion the UN received last year.
The Yemen war is in its sixth year year as of March of 2020 and shows no sign of letting up or stopping. This war continues between Abdrabbuh Mansur Hadi of Yemen government and Houthi militants backed by Iran. Geert Cappelaere, the UNICEF Regional Director for the Middle East and North Africa, stated that this war has been a "living hell" for the children.
The kids have suffered the most in this conflict.